General
Registration Questions
Participation
Resources
---
General
The UOFC, or the Undergraduate Organizations Funding Committee, is a student-run sub-committee of the Yale College Council and is the main source of funding for undergraduate organizations on campus. The UOFC also manages a Capital Equipment program, through which undergraduate organizations can borrow speakers, mics, tables, and other equipment.
The Yale College Dean's Office, specifically the Office of Student Affairs, oversees all registered undergraduate organizations on campus. The YCDO sets undergraduate organization policies, manages registration of undergraduate organizations, and facilitates access to the privileges of registration. Additionally, the Office of Student Affairs oversees the onboarding process, student organization leader training, and group discipline.
Click here for a Yale Connect specific FAQ.
---
Registration Questions
Commit. Consider your schedule. Do you have enough time to commit to building an organization? Keep in mind, for most groups, creating a new organization means thinking through your mission, recruiting others, planning for and leading meetings, and organizing events.
Plan. If you believe strongly in your idea and are ready for the commitment of creating a new group, it's time to create the skeleton of your organization and get others on board. To register a new organization, you will need at least 5 members and a basic constitution. At minimum, your group's constitution should include a clear mission statement, information on how people join, clarification of your group leadership's responsibilities, and a dissolution clause.
Register. In order to access space, recruit at the Student Organizations Bazaar, and apply for university funds, student organizations must register with the Yale College Dean's Office. The Yale College Dean's Office registers new groups twice in an academic year, in the Fall and the Spring. For exact registration dates, visit this website. Registration takes place through Yale Connect. If you've missed the deadline, you will need to wait until the next semester to register your group. In the meantime, consider partnering with other organizations to host events.
Affiliate. After you've registered your organization with the YCDO, you are free to connect with any relevant campus centers. Campus centers include, but are not limited to, the Cultural Centers, OISS, Dwight Hall, the Chaplain's Office, the School of Engineering and Applied Sciences, and the Yale Entrepreneurial Institute. Affiliation with a campus center may allow you access to additional resources, including funding and space. Each affiliation process is unique and varies in formality, so reach out directly to the center if you have questions about affiliation.
Onboard. For the first two semesters of your organization's existence, you will go through the onboarding process. During the onboarding process, you will meet with your Student Organizations Consultant at least three times. Click here to learn more about the onboarding process. Note: if your organization chooses to become a Dwight Hall Member Group, you will not go through YCDO Onboarding and will instead complete Dwight Hall's New Member process. 
Present. The Onboarding Process culminates in a brief presentation in front of the Committee on New Organizations. The Committee will decide whether your group becomes a fully recognized organization or you need to complete further onboarding.
Sure! To access the current application, click here.
Please note, this link is only to show the questions currently asked on the application. You will need to complete and submit the form via Yale Connect in order to register your organization.
Registration for all current student organizations will remain active until the Fall registration deadline. If your group will continue to be active in the upcoming academic year, you are required to re-register annually via Yale Connect.
You must be an administrator of your organization's Yale Connect portal in order to re-register your organization. If you are an administrator, during the registration period, you can re-register your organization via Yale Connect one of two ways.
Option 1: If your organization has not yet re-registered for the academic year, you will notice an orange box that says "Your attention is needed!" on your Yale Connect portal. Clicking "Update Now" is the first way to edit your registration profile.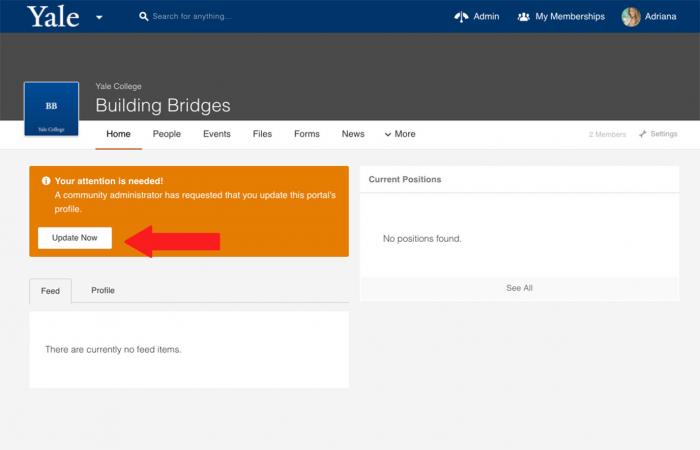 Option 2: If you do not see an orange box, you can also re-register your organization through your portal's "Settings." To do so, hover over "Settings" in the tool bar. Then, click "Organization Settings." 
If you do not see "Organization Settings" as an option, you are not the administrator of a portal. To gain administrative access, follow the directions given at the end of this post. 
You will then see a box that says "Your Organization Profile." Click "Update and Renew Profile" to complete your registration.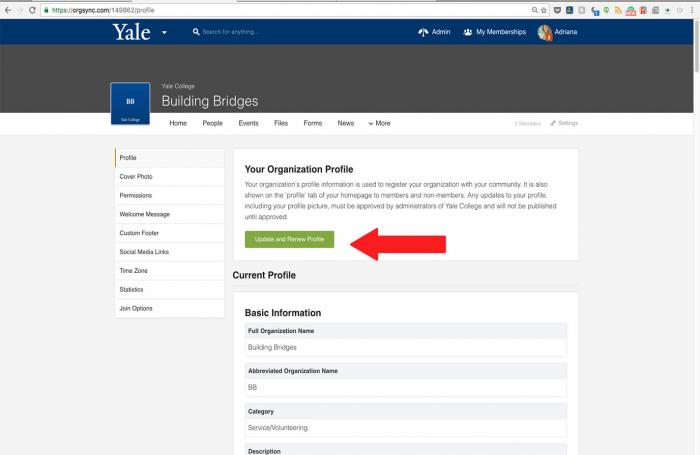 Yes! All student organizations are required to send at least one representative to an annual training. You will receive more details as they become available.
Please ensure that you are properly listed as an officer in your group's portal in order to receive all notices from our office. 
If you believe your group would be more of a student organization, email student.organizations@yale.edu.
If you believe your group is more likely a potential club sport, call the Club Sports Office at (203)432-2492 or stop by the office at 521 Payne Whitney Gymnasium.
Either office can help guide you with information about where to register.
For more on Club Sports, click here.
Yes. If you are interested in accessing the privileges of YCDO registered organizations, including access to classroom spaces and UOFC funding, you will need to register separately with the YCDO and continue to re-register every year.
Registration with Dwight Hall does not automatically register your group with the YCDO.
No, you will need at least 5 active members to register your organization.
If you would like some assistance thinking through recruiting members prior to registering, reach out to student.organizations@yale.edu, and we'll connect you to a Student Organizations Consultant who is happy to serve as a sounding board.
The YCDO only registers undergraduate organizations. Undergraduate organizations are defined as groups whose membership is majority undergraduate and entire executive board is undergraduate.
This means that no graduate or professional school student may serve as a President or Treasurer for a group registered with the Yale College Dean's Office. However, you are welcome and encouraged to have graduate or professional school members, as they will often bring a variety of experiences to your organization. The important thing is that the group remains majority undergraduate.
If your organization has shifted and is now majority graduate or professional school students, reach out to the Secretary's Office to register your organization. For more on that process, click here.
All organizations are required to re-register with the Yale College Dean's Office every year for continued access to all the privileges of registration.
If your organization's registration lapsed for more than one semester, you will need to present in front of the Committee on New Organizations. Depending on how long it has been since your organization last registered with the Yale College Dean's Office, you may also need to complete the remainder of the Onboarding Process for two semesters.
If you have questions about your organization's specific obligations, email student.organizations@yale.edu.
---
Participation
Yes, this one! Click here to access the directory of student organizations.
For more information on each organization, you may also visit Yale Connect. Each registered student organization has a Yale Connect portal with information about the current leaders, mission of the group, and the days and times they meet.
No, students on leave or studying abroad may not participate in the activities of undergraduate organizations registered with the YCDO. For example, students on leave or studying abroad may not serve as officers for a student organization.
Only student organizations registered with the YCDO or Club Sports registered with the Athletics Office will be allowed to participate in the Student Organizations Bazaar. Group leaders of registered student organizations will receive instructions one month prior to the Bazaar with information on how to sign up for a table at the Bazaar. Tables are assigned on a first come, first serve basis, and maps will be created to help first year students find student organizations.
To ensure you receive information on signing up for a table, please keep your Yale Connect portal updated.
Click here for instructions on updating us with your new officers.
---
Resources
To reserve a classroom, follow the instructions given here.
Some spaces are reserved through specific departments or administrators. If you have a specific space in mind but are unsure how to reserve that space, please contact your Student Organizations Consultant.
Registered student organizations have the privilege of requesting an @yale.edu email account. To set up your email address:
Confirm you are officially registered for this academic year by checking our Directory. If your group is not listed in the Directory, you are not currently registered as an organization. Contact student.organizations@yale.edu for more information.
Once you have confirmed your registration, email client.accounts@yale.edu and CC student.organizations@yale.edu. Only your organization's President or leader equivalent should submit a request for an email. Your email should include:

Your organization's name
One or two preferred email address options for your account. Your email address must clearly correlate with the name of your organization and cannot be derogatory in nature. Client Accounts will have final approval of your request.
The name and netIDs of two account administrators, who will be able to request changes to your account. One of those account administrators should be a faculty or staff member who has agreed to be listed. Having a faculty or staff member as an account administrator will help your organization retain control of your email account if the previous student administrator graduates or otherwise leaves the group.
A brief description of your group's purpose and activities.

Provide additional information in a timely manner, if requested. Simple account requests will be granted within a few days.
The YCDO has some limited storage space available for student organizations. If you are interested in learning more or accessing that space, please email student.organizations@yale.edu with a clear and brief description of your request, including:
What you would be storing

How much space you would need

Whether you would need access to the space throughout the year, and, if so, how many people would need continued access.