Every registered Student Organization has their very own Yale Connect portal! 
Yale Connect serves as an online office, allowing you update your organization's membership and leadership, save your organization's important documents, and post your events on one, centralized event calendar. It also facilitates interactions among student organizations through a searchable database of all 500+ organizations registered with the Yale College Dean's Office. 
As of Fall 2023, all student organizations are required to register any club events through Yale Connect. By registering your event, your request will automatically be directed to the relevant offices for approval. You will also be prompted to see helpful resources and regulations for hosting your specific event. Please see below for a step-by-step process on how to create your event through Yale Connect.
Questions about how you may best use Yale Connect? Reach out to your Student Organizations Consultant or contact the Office of Student Affairs. 
Event Registration and Reserving Classrooms on Yale Connect
The following steps can be completed by group Officers listed on the organization's Yale Connect Portal.
1. Go to your organization's portal. From the homepage, you can always find your organization's portal by clicking on  "Groups" at the top of the "Home" page.

2. On your portal's dashboard, click "Events."
3. On your Events page, click "Create Event" on the upper right-hand corner of your screen.

4. You have now entered the Event Registration Form. To begin, select an Event Template. Next, complete the event description, "What," and fill out all required information.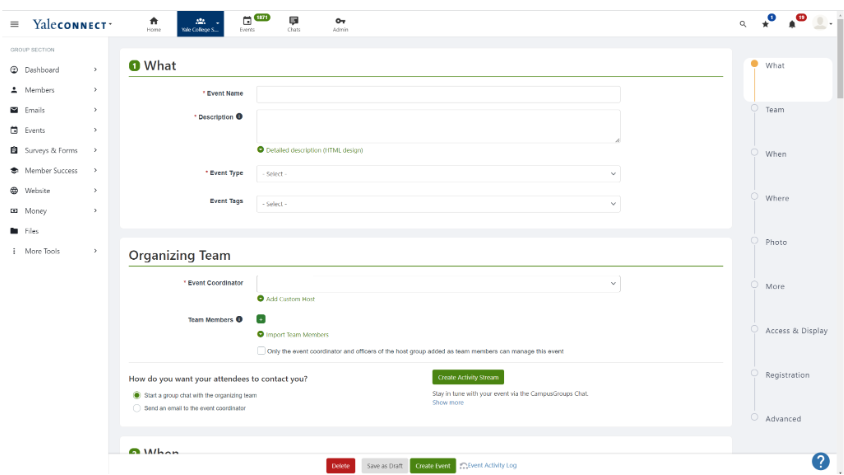 5. The "When" and "Where" section is where you will reserve your event space.
If you do not see the below options to "Book Rooms," please contact your SOC. 
Begin by choosing the date and time your event will begin and end. If you have regularly recurring meetings, you can click on "Recurring Event Settings" and reserve spaces for the same day and time every week.
If you would like to reserve a classroom space, under the "Where" section select "On-Campus Room Reservation" and click "Book Rooms."  Add setup and teardown time as needed.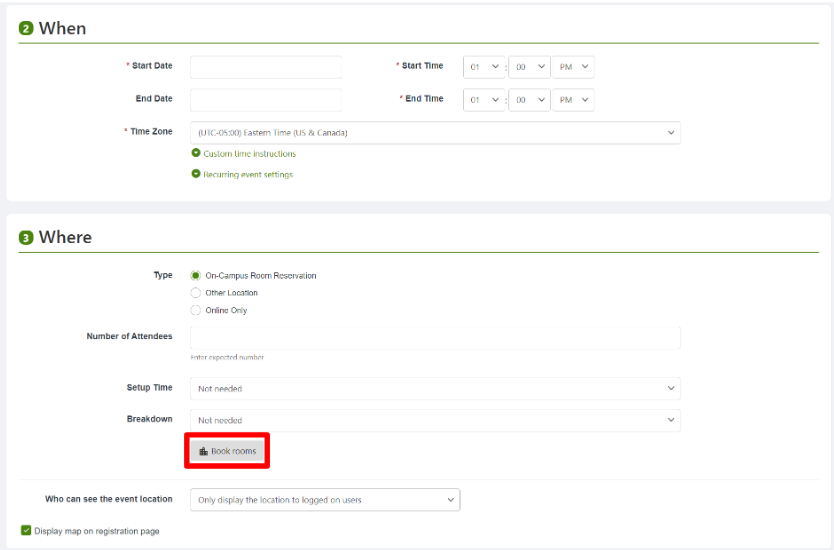 If you select "Book Rooms" you will then see suggested options for your event type and number of attendees. You can filter the search for a space that best fits your needs. Pay attention to the listed capacity and room features. Once you have identified the desired space, click the "Book" option.

Note: Your room reservation will not be submitted until you have completed and submitted the entire Event Registration Form.
7. After clicking "Create Event," you will be re-directed to a Yale College Event Request Form.
The Yale College specific form will take 5-15 minutes to complete, depending on the nature of your event. The form will ask you questions about your event aimed at ensuring all appropriate reviewers will be contacted. Please select the "Event Type" that most accurately describes your group event. If you do not select the correct category, you will be asked to resubmit the form. The event type you select will determine what relevant regulations and resources are presented to you.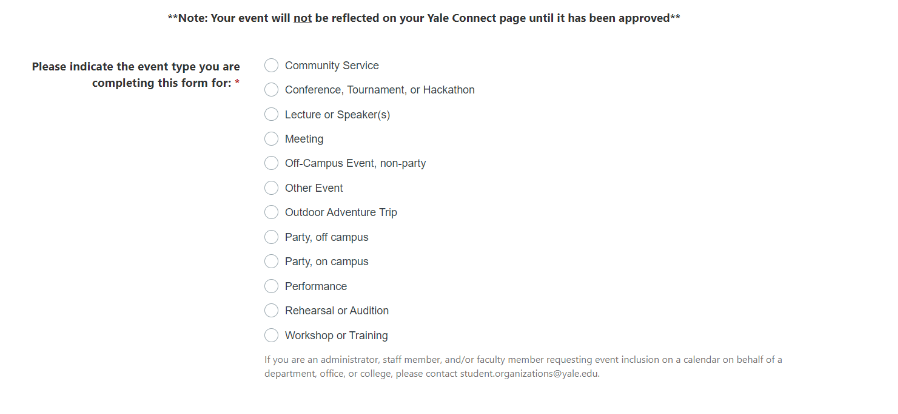 8. After answering all necessary questions, make sure to "Submit" the form. 
9. You will be redirected to your event's page. All events will need to be approved by the Yale College Dean's Office. If you requested a space, the Registrar's Office will need to approve your space. You can expect approvals, questions, or denials within 2 business days and should note that complicated events may take longer before appearing on the calendar. 
Please direct all questions to student.organizations@yale.edu.